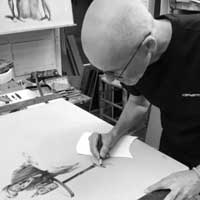 Paco Pomet
Paco Pomet est né en 1970 à Grenade, en Espagne. Vit et travaille à Grenade.
Formation : 2004, School of Visual Arts, New York / 1993, Diplôme des Beaux-Arts, Université de Grenade, Espagne / 1992, programme d'échange Erasmus, Loughborough College of Art & Design, Angleterre.
Expositions : Richard Heller Gallery, Santa Monica, Los Angeles, États-Unis. Galerie Benoni, Copenhague, Danemark. My Name's Lolita Art Gallery, Madrid, Espagne. Le Baker Museum, Naples, Floride, États-Unis.